Join The adClix WebSite Revenue Program
The Pet Zoo
| | |
| --- | --- |
| | Welcome to the Pet Zoo! This is the part of Quillo's Online Zoo where you can see some of our visitors' pets and put your own pet on display for others to see! |
---
This cat's name is Roundy. He belongs to Michelle and is 5 years old. Some of his favorite things to do are sleeping and playing outside where he catches bugs. He was abandoned by his mother as a kitten, but was rescued by me (Michelle) and my family. We call him Roundy because he is very FAT!! Isn't he cute??
---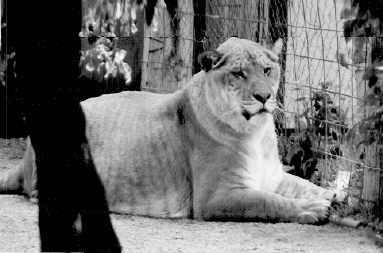 This big guy's name is Nook. He lives at the JES Exotics Sanctuary. He is a very special cat because he is a Liger, a cross between a Lion and a Tiger! He is very big and weighs nearly 1,500 lbs!! That is almost a ton! What a special cat! Photo of Nook courtesy of JES Exotics Sanctuary.
---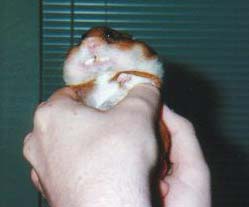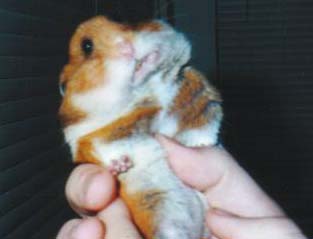 This is Lien. She is a Golden Hamster. She has large cheek pockets for carrying food or nest materials. In these pictures she has her cheeks stuffed with paper towels! Mother hamsters use their cheek pouches to transport their babies to a new nest. Lien belongs to Barbara and is 1 year old.
---
| | |
| --- | --- |
| | This is a 2 year old Tiger named Raja. He was named after the tiger in Alladin. Even though he is young, Raja weighs 527 lbs.! Raja was adopted by 19 year old Scott. Scott's parents let him adopt Raja as a present because they knew that Tigers are Scott's favorite animal. What nice parents Scott has!! |
---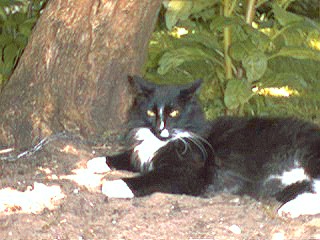 "This is Iggy our big house cat. (born in 1995) On nice days, he goes outside to watch the birds and squirrels. To get your attention, Iggy loves to jump to your shoulder from the floor! Opening doors, sitting on a chair at the table, peeping through the mini blinds, I swear he is human!" - Jessica

---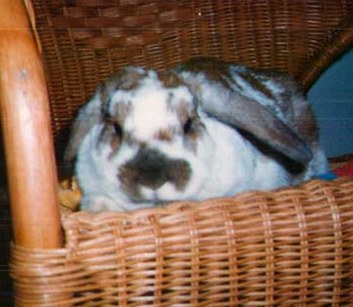 Here is a very cute bunny! His name is Nene and he belongs to Susan: "He's about 5 years old and
very lazy in this picture. Isn't he cute?" He sure knows how to relax!

---

If you would like to add your pet to the Pet Zoo, send a picture along with an email that says your first name and age, your pet's name and age and anything else you want to say about your pet. Send your picture here. Please, no files bigger than 60k.

Back to Quillo's Online Zoo!