Get Sponsored
The Bear Cave

GRIZZLY BEARS
Ursus arctos horribilis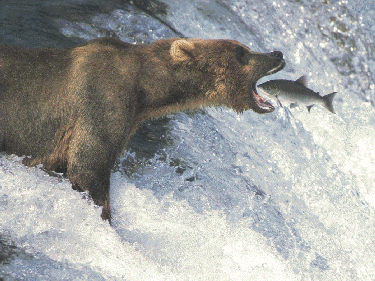 This is the Grizzly bear, one of the most aggressive of all bears. In fact, the Grizzly is so powerful that it has no natural enemies or predators. This means that the Grizzly doesn't have to worry about being attacked by other animals that may want to eat them. Grizzly bears spend the spring and summer months looking for food. They are omnivores, which means that they like to eat both meat and plants. People are omnivores too. Some of the things that Grizzly bears like to eat are: nuts, berries, honey, insects, fish, rodents, and other small animals. When fall comes, Grizzly bears begin to dig out a den that they will hide in during the coldest parts of winter. When winter comes, the Grizzly bear goes inside his den and falls into a deep sleep. But, if the weather isn't too cold, the Grizzly will leave his den in search of food.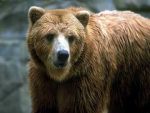 Here are some cool facts about Grizzly bears:
Baby Grizzly bears are called cubs.
Wild Grizzly bears are found only in Canada, Alaska, Montana,Wyoming, Idaho, and Washington.
The average height of the Grizzly bear is 6 feet and the average weight is 200-650 pounds!
The maximum age for Grizzly bears is about 30 years.

Back to Quillo's Online Zoo!