SIBERIAN TIGERS
Panthera tigris altaica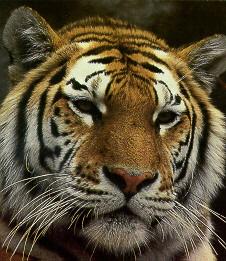 The Siberian Tiger is the largest of the world's big cats. Male Siberians range from 9-12 feet from their head to the end of their tail! Siberian Tigers weigh about 400-650 pounds. And most of that weight is muscle. They use their big muscles as they hunt for food. Siberian Tigers are carnivores, which means that they love to eat meat. Some animals that they catch and eat are wild pigs, deer, rabbits, and fish. The way a tiger hunts is really cool. It hunches down when it sees an animal it wants to eat. Then it slowly creeps up on the animal. When it gets pretty close, the Tiger pounces on the prey and grabs it by the back of the neck. Usually this kills the prey instantly, but if it doesn't, the tiger will use his sharp teeth and strong jaws to bite his prey. The Siberian Tiger has to spend a lot of time hunting for food because many times he will not be able to successfully catch the animal he pounces on. He will try over and over until he finds a good meal. If he does catch the animal, he quickly gobbles up all he can and if there is some left, he will bury the meat and come back for it later.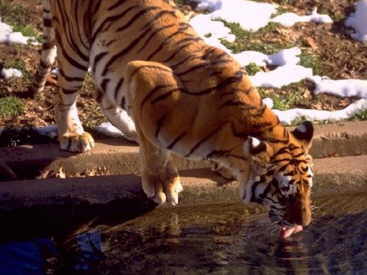 Siberian Tigers live in Siberia, which is in Asia. They also live in the northern parts of China and Korea. During the winter, the Siberian Tiger's orange hairs take on a lighter shade. This helps him camouflage himself in the snow. To keep warm, the Tiger has layers of fat on his tummy. The fat allows him to lay down in the snow without getting too cold.
Click here to hear the sound a tiger makes. It may take a few seconds to download.
Here are some cool facts about Siberian Tigers:
Siberian Tigers are an endagered species. There are less than 200 wild Siberians left in the world.
The Siberian Tiger can live up to 25 years.
The Siberian Tiger sometimes lives in temperatures as low as -50 degrees F.
The Siberian Tiger can eat up to 100 lbs. of meat at one time.